New on the Shelves: Female Writers
While gender inequality still remains in the publishing world today, the challenges that female writers faced in the past, including society's attitude towards them, were even more severe and impenetrable. Today the majority of classic writers who have become household names are male, but that's not to say that women weren't writing in the early 20th century and earlier – we just don't know about them! That's why it has been so exciting that while we have been cataloguing the collection of the legendary Martin Stone we have come across quite a few interesting books by female writers, many of which are new to me. I'd like to share a few of their stories, which I have personally found extremely humbling and inspiring.
ANNA KINGSFORD (1846 – 1888)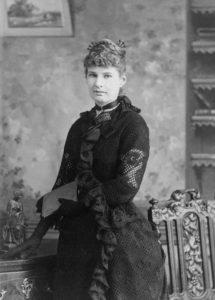 When I picked up a copy of Dreams and Dream Stories, a beautiful little book (black cloth decorated with silver stars and lettering) containing a collection of Anna Kingsford's dream diaries, musings, poems, and prose, I was immediately fascinated by her writing and by her story. She was a passionate animal rights activist, anti-vivisectionist, vegetarian, spiritualist, and one of the first women to gain a medical degree (as well as being the only medical student at the time to graduate without experimenting on an animal).
Kingsford had a desire to study medicine in order to give herself more authority in her pursuit of the furthering of the animal welfare-based causes that were so close to her heart. British medical schools did not allow women entry, and so in 1874, aged 27, Kingsford began studying medicine in Paris. Although she was allowed to study, it was not easy: Kingsford recounts in a letter to her husband an incident when, in group of around a hundred students (Kingsford being the only woman), a professor refused to speak or even write her name during a roll call, claiming that she was neither a woman nor a man.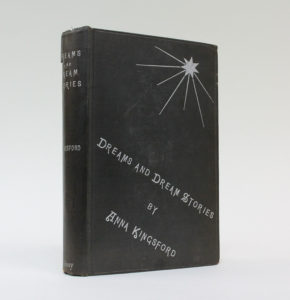 Paris was at the time the epicenter of vivisection-based physiology, and Kingsford had to endure the sights and sounds of live animals being subject to horrific experiments. However, despite the distress this caused her, her refusal to conduct any animal experiments, and her writing her thesis on the medical benefits of vegetarianism (which was initially objected to by multiple professors), she graduated with a Doctorate of Medicine in 1880, going on the give prominent lectures and demonstrations promoting vegetarianism (which was controversial even amongst her fellow anti-vivisectionists) and condemning vivisection, just as she had wished.
What she achieved and withstood in her short lifetime is testament to her incredible strength and determination in the face of a society that was pitted strongly against her beliefs and her sex.
KATHARINE BURDEKIN (1896 – 1963)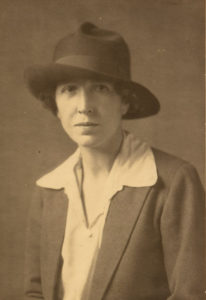 Katharine Burdekin was a truly remarkable writer of speculative fiction with an emphasis on the exploration of incredibly advanced and complex feminist and gender-critical concepts, marking her out as undeniably far ahead of her time. Born into an educated, upper-middle-class family, she was highly intelligent and well-read. She wished to attend Oxford like her brothers, but unfortunately her parents forbade it.
Ten of her novels were published during her lifetime, but fell into obscurity until the 1980s when Daphne Patai, a Professor of Women's Studies, discovered the true identity of "Murray Constantine", Burdekin's pseudonym. Many of her novels were subsequently published by The City University of New York's Feminist Press and are now of great scholarly interest.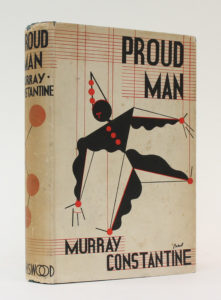 We are lucky enough to have on our shelves two Burdekin first editions. The first, Proud Man, is signed and inscribed by Burdekin. In the novel a completely biologically androgynous human from a peaceful, genderless, vegetarian future society travels back in time to 1930s England, and then gives a critique of this comparatively primitive, "sub-human" society. Through this future human's eyes, Burdekin dissects our adherence to gender roles and the societal and cultural creation of the masculine identity, theorizing that the male sex assumes that all children are inherently effeminate – that girls naturally become women, while boys must be carefully supervised, taught, and tested into becoming men, and that this is borne out of "a great fear of the suppressed power of the female sex".
Our second Burdekin, The Rebel Passion, is an early work that the author considered to be her first as a mature writer. It is another time travel-based novel, telling the story of a 12th century male monk who is "born with the soul of a woman" and does not fit into society's ideas of masculinity. In a series of visions shown to him by a spirit, he witnesses events spanning millions of years from the dawn of life to the creation of a utopian, neo-medieval 21st century society where men and women have achieved complete equality.
CATHERINE CARSWELL (1879 – 1946)
Scottis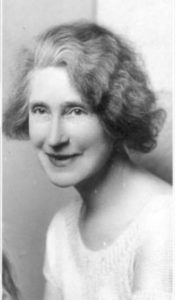 h writer Catherine Carswell's life was lived among artistic and literary circles, and, having little care for playing things safely or for giving up in the face of adversity, was often dogged by drama and controversy. In 1908 she won a historic court case, making her the first woman to have her marriage annulled by proving the insanity of her husband at the time of their marriage. Some years later she moved from Glasgow to London, where she hoped to further her budding career as a journalist and critic. However, after publishing a glowing review of The Rainbow, a novel by her close friend D.H. Lawrence (who was then a contentious figure at best) she lost her job.
Carswell and Lawrence's friendship is notable for the affection shown on both sides, and for the fact that Carswell, unlike many of his friends, was never the subject or recipient of the criticism for which Lawrence was known. The pair exchanged a huge quantity of letters and frequently and actively encouraged and advised one another on their writing, with Carswell having particular involvement in Women in Love. The two novels that Carswell wrote during this period were eventually forgotten, much like Burdekin's, until their eventual rediscovery and publication by the feminist publisher Virago, and she is now considered a crucial figure in 20th century Scottish women's writing.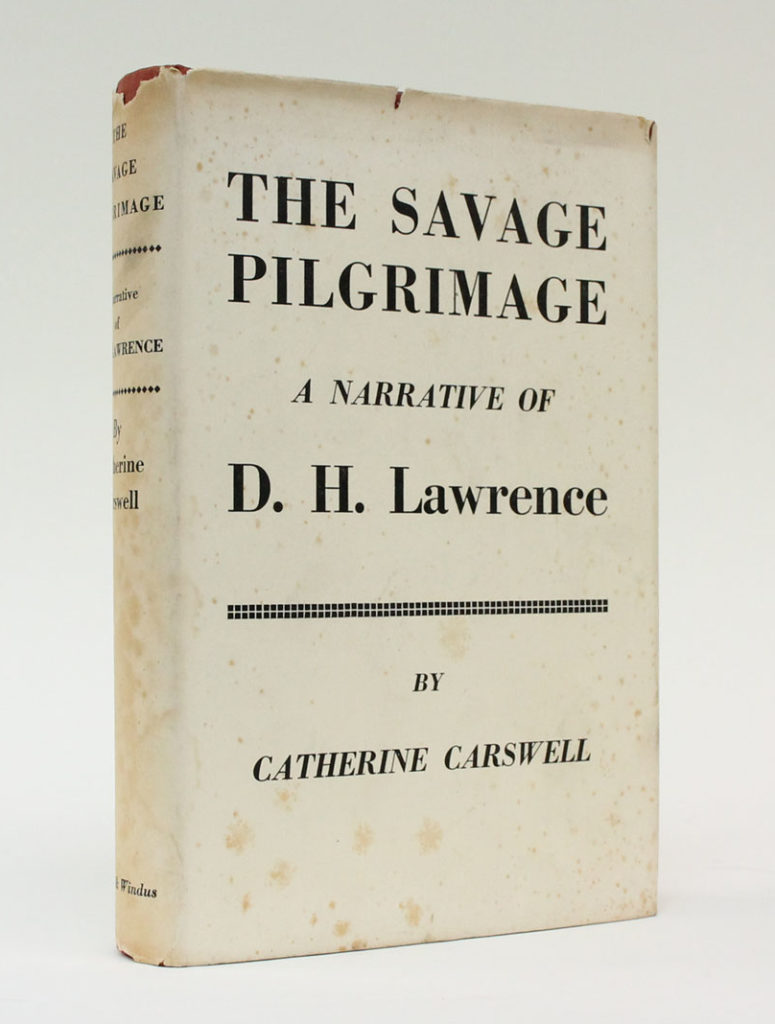 Deciding to turn her hand to biography, Carswell penned an honest yet sympathetic biography of Robert Burns, who had to many become a legendary, untouchable figure. The book was met with uproar, moving one individual to send a bullet to Carswell in the post and advise her to end her life in order to "make the world a cleaner place".
The Carswell title that we have to offer is a first edition of The Savage Pilgrimage, a fascinating, intimate biography of Lawrence, written soon after his death. It was withdrawn by Chatto and Windus amid fierce accusations of libel from another friend and biographer of Lawrence, John Middleton Murry. Carswell and Murry had developed a strained relationship prior to Lawrence's death which only intensified in its aftermath, when their biographies conveyed very different ideas about Lawrence's character and motivations, as well as about each other.
As a final thought, I believe it is worth noting that these women all come from comparatively privileged backgrounds, yet their paths through writing and publication were clearly not easy, not to mention the fact that they were never able to reach the prominence of some of the most acclaimed – overwhelmingly male – writers. It is sobering to imagine how difficult and practically impossible the act and idea of writing would have been for women from less wealthy, more diverse backgrounds – something that we have undoubtedly not yet entirely overcome.
This is only a very small selection of the many amazing lesser-known women writers I've recently come across on our shelves, and I am certain there are so many more out there left for me to discover, which is a very exciting thought! I hope you have enjoyed reading about their lives and works as much as I have.
Bibliography
The Scalpel and the Butterfly: The Conflict Between Animal Research and Animal Protection, Deborah Rudacille, University of California Press. (2001)
Proud Man, Katharine Burdekin, Feminist Press at CUNY (1993)
Anna Kingsford: Her Life, Letters, Diary and Work, Edward Maitland Cambridge University Press. (2011)
http://www.humanitarismo.com.br/annakingsford/english/index.htm (2019)
The End of this Day's Business, Katharine Burdekin, Feminist Press at CUNY. (1989)
Open the Door!, Catherine Carswell, Canongate Books. New Ed edition (2010)
Lying Awake, Catherine Carswell, Canongate Books. 2nd edition (1997)