The Irrepresible Nancy Cunard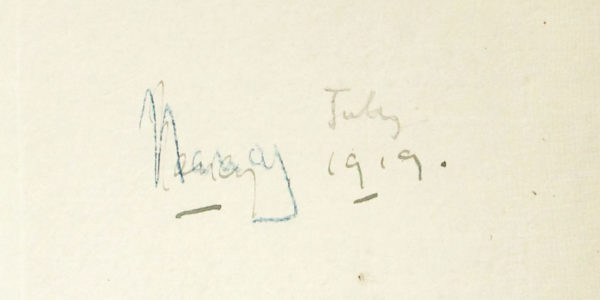 We are lucky enough at Lucius Books to currently be in possession of a handful of books once belonging to Nancy Cunard, a rebellious poet, socialite, publisher, and political activist who worked hard to promote pacifism while fighting fascism and prejudice, though she is now mostly remembered, perhaps unfairly, for becoming muse and lover to a host of early 20th century writers and artists. None of the books are in exceptional condition and most have been annotated and personalised by Cunard, which only serves to render them somehow closer to her – she was certainly not the sort to carefully collect and preserve objects, but rather to thoroughly and blithely immerse herself in them in a bid to extract the messages and sentiments held within.

Three of the books belonging to Cunard are by George Moore, and their publication and inscription dates range from 1917 to 1955. Moore had a very close, almost certainly romantic and sexual relationship with Cunard's mother, Lady Maud Cunard, who remained his idealised muse until the end of his life, her likeness finding its way into many of his novels. It was rumoured during Cunard's lifetime that Moore, rather than Maud's husband, Sir Bache Cunard, heir to a profitable shipping business, was Cunard's father. Cunard never discovered whether the rumour was true, and her parentage is still disputed to this day. Her father or not, Moore was a permanent fixture throughout Cunard's life, and she often spoke of him with more affection than her generally absent or disinterested mother and father. Referencing her visit with Moore at age four, she describes him as her "first friend".

Many found Cunard's eccentric, energetic personality enchanting and magnetic, earning her a wide and dynamic social life; she had links, whether as acquaintances, friends, or lovers, with a staggering amount of famous artists, writers, and other creative or bohemian figures. Ezra Pound, T.S. Eliot, Louis Aragon, Aldous Huxley (who was so taken with Cunard he wrote her into his novels), Wyndham Lewis, John Strachey, and Jean Cocteau are just a few of those we know for certain were her lovers, while among her friends (a few of whom may also have been her lovers) were Ernest Hemingway, Samuel Beckett, William Carlos Williams, Man Ray, Henry Moore, Virginia Woolf, Josephine Baker, and Iris Tree, as well as many more.

One of the books, Moore's 1917 'Lewis Seymour and Some Women' bears Cunard's ownership inscription (as Nancy Fairbairn, her married name) on the front pastedown, and a further  inscription of the name and address of her friend and lover, the Chilean artist Guevara Alvaro on the rear free endpaper. Guevara (who was reportedly intensely infatuated with Cunard) painted her portrait in 1919 – the year she separated from her husband – which now hangs in the National Gallery of Victoria in Melbourne. It is possible that the book originally belonged to Guevara who then gave it to Cunard, maybe during a period of increased closeness while the painting was being created, or that the book was shared between the two. Whatever the circumstances, which we can sadly only speculate on, this book is a wonderful artefact of the relationship between an artist and sitter, and of a vibrant social circle of creative minds during a period of great cultural and artistic change in early 20th century Britain. As well as this title, we have two other Moores with ownership inscriptions and reading notes by Cunard – 'Memoirs of my Dead Life' and 'Confessions of a Young Man'.


After relocating to France in the 1920s she opened a small press with which she championed new and boundary-pushing poets, many of which were her friends. In the 1930s, having become aware of and disgusted by racial injustices, she turned her publishing press towards celebrating the work and history of black writers and highlighting everyday and institutional racism, from comments made by her own mother to a defence of the Scottsboro boys, all of which led to her own disinheritance from her wealthy parents.

Cunard's drive to fight prejudice and injustice was shared by one of her lifelong friends, the American writer Kay Boyle, who wrote another of our books belonging to Cunard. 'His Human Majesty' is inscribed by Boyle to Cunard, dated 1949. Boyle's poignant and insightful 1937 poem about the Scottsboro case (Cunard had passionately put great effort into petitioning for the boys' release in 1931) is titled 'A Communication to Nancy Cunard'.

Our final book of Cunard's is Stephen Vincent Benet's 1928 'John Brown's Body', which contains a number of Cunard's inscriptions: her pencilled reading notes on the front free endpaper state that she read the book three times, the second reading dated Summer 1953, the third reading in August 1964, just six months before her death. Her final years were sadly marred by poor physical and mental health, poverty, and addiction, and it can be noted that her handwriting in the 1964 inscription is markedly stiff and shaky. At the top of the page she boldy states that "this is one of the finest poems ever written", with further notes highlighting favourite passages. It is certainly humbling to handle a book that such a vibrant woman held so dearly!

On the prelims, marked "today, the 16th of June 1953" (during her second reading of the poem) Cunard tipped in French newspaper clippings covering and denouncing Ethel and Julius Rosenberg's imminent execution for espionage, next to which she writes that "the issue is still uncertain". Many Europeans, including Albert Einstiein and Pablo Picasso, publicly called for mercy and compassion regarding the Rosenberg Case. The execution went ahead three days later. This clearly beloved book along with our other books belonging to Cunard create a small but wonderful window into the life of one of the early 20th century's most unusual and fascinating women, as well as into the political and social world of early and mid-century left-leaning minds.