"I stepped up to it in extremity of terror, mine own image, but with features all pale and dabbled in blood, advanced to meet me with a feeble and tottering gait."
– Poe's Tales of Mystery and Imagination
The season for scaring ourselves is almost upon us, and as much as everybody loves to watch horror films at Halloween, I believe there's nothing as scary as a good old fashioned horror story straight from a book's pages or read aloud. Because your imagination must do all the work you end up picturing the worst version possible of what is being described; the monsters and ghosts becomes more terrifying than any amount of CGI or puppetry could ever communicate. The more you read the more your mind plays tricks with shadows and sounds, blurring the thin line between fiction and reality that an image on a screen can never truly cross. And what better format than the short story? The simplest ideas are often the purest and most atmospheric, the lack of wider detail and context intensifying the creepiness of the story, as wonderfully demonstrated in Edgar Allen Poe's stories. Moreover, you can snuggle down with one on a cold, dark evening (preferably with some hot cocoa for comfort) and be safely out the other side by bed time, with only a whisper of the tale's horrors still playing on your mind.
Daphne du Maurier
Classics of the Macabre – Illustrated by Michael Foreman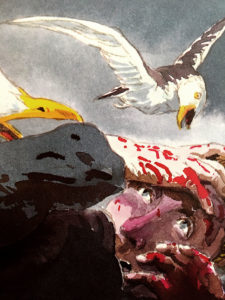 Daphne du Maurier is the 20th century's queen of gothic fiction, thanks to her often bleak and imposing depiction of the Cornish landscape and her tendency to show reality and sanity as somewhat malleable and unreliable. This gorgeous copy of Daphne du Maurier's Classics of Macabre, illustrated by Michael Foreman, beautifully bound in burgundy with gilt edges and signed by both Maurier and Foreman, brings together Maurier's most chilling tales, two of which have adapted into films. The Birds inspired Alfred Hitchcock's 1963 film of the same name, while Nicolas Roeg adapted Don't Look Now into a film in 1973.
From a Cornish farmer who is inexplicably and viciously attacked by hordes of birds, to a woman whose eye surgery comes with grotesque consequences, a man who is convinced his dead wife is haunting a tree in his garden, and a couple who encounter a doppelgänger of their recently deceased daughter; Maurier's quietly creepy stories steer clear of garish thrills or overt horror motifs. Instead they center on ordinary people in ordinary settings in which something is simply not quite right, creating a strong sense of the uncanny and suggesting that something deeply unsettling is waiting to happen to someone normal and every day; to someone just like you…
Edgar Allan Poe
Poe's Tales of Mystery and Imagination – Illustrated by Arthur Rackham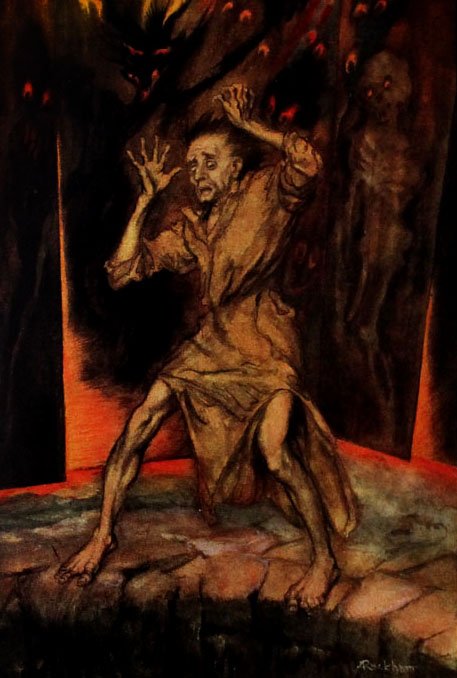 Poe has often been named the "arch-priest" of the gothic horror tale,and looking at the intensity of the dark atmosphere and style of his work and the hugely wide reach of his influence, it isn't hard to see why. He took the beginnings of existing gothic literary tropes and solidified them into what was to become a fully-fledged, modern genre (see doppelgängers in Poe's William Wilson du Maurier's Don't Look Now), with a few of his own additions thrown in along the way.
This copy of Tales of Mystery and Imagination brings together Poe's horror, suspense, and detective stories, their grim mood reflected brilliantly in Rackham's murky, haunting illustrations for the first time. The most disturbing of the tales tend to employ an unnamed narrator, often in a circumstance the reader is never given the full details of; this has a disorientating, surreal effect, and guides the reader directly into the narrator's shoes, focusing their attention on the horrors unfurling before them with no distraction from a wider plot or character details, such as the razor sharp pendulum that slowly descends upon the incapacitated narrator in The Pit and the Pendulum, or the burgeoning madness the narrator experiences in The Fall of the House of Usher.
Poe's tales have inspired many film, television, and screen adaptations, but perhaps more notably have irrevocably altered and entered the general landscape of horror and gothic culture, to the point that almost every modern gothic horror pays its respects to Poe in some way or other.
L. P. Hartley
The Travelling Grave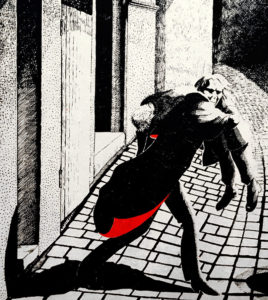 While best known for his Edwardian-set drama novel The Go Between, L. P. Hartley was also a prolific writer of short macabre stories. The Travelling Grave (with a striking illustrated dustwrapper from Arkham House regular, Frank Utpatel), was his first collection published in the US, and draws from his previous gothic collections published in the UK, comprising of ghost stories and tales of murder. The stories, often set in grand houses or exotic destinations where the protagonist is a guest or outsider of some sort, give the unsettling feeling of being an eternal stranger; a concept distilled further in A Change of Ownership and The Island, where the protagonists are pushed out of their homes and rendered strangers in their own lives.
Podolo and Three, or Four, for Dinner, like du Maurier's Don't Look Now, join their British protagonists on their holidays in Venice, proving that the historic city with its dream-like structure and architecture is the perfect setting for strange goings-on. The Travelling Grave and The Killing Bottle lend a touch of black comedy to their macabre subjects, while Night Fears explores a very dark, psychological variety of horror.
I hope you find something here to frighten and delight you on a dark and stormy night. Have a scary (and literary) Halloween!