29th January: Setting off for two bookfairs in California, our books in shipping trunks were dispatched a week ago, now it's our turn to head over the pond. We arrive at our gate to find our aircraft for the 11 hour flight to Los Angeles is a brand spanking new Airbus A380, the double decker and one of the most efficient passenger airplanes in the sky. Despite my best efforts and obvious excitement I was unable to enthuse Georgina about our lucky break!
New machine-based facilities at LAX meant that we were through immigration in record time and at the baggage belt before the suitcases. Phone on. Message from Lucius Books consultant James Allen who had come out the day before to scout the LA Art Fair to call him asap; by the time our bags arrived we've bought our first book.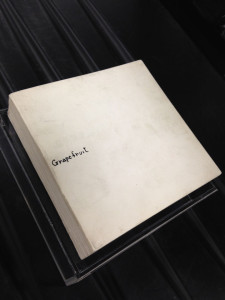 The 1964 self published first edition of Yoko Ono's GRAPEFRUIT was printed in Tokyo in an edition of 500 copies under her Wunternaum Press imprint.
Most will know of the later edition in which John Lennon wrote an introduction and contributed a couple of line drawings but this Tokyo edition precedes Yoko and John meeting (at the time of publication Yoko was living in Tokyo with her American husband Tony Cox and their baby daughter). This groundbreaking conceptual piece made up of [in Yoko's own words] "instructions to help you through life" in its plain white paper binding with the author's hand-written title in black ink to the upper cover is tough to find, and even tougher in decent condition. But that's just the start of it….
Taxi!
We pull up at our hotel in Pasadena just under an hour later and despite it being 4am UK time we decide a slice of pizza and a glass of wine is in order. A brief flurry of text messages ensues and before we knew it we are glass in hand with our pals Pom Harrington and Paul Foster catching up on what we've missed (evidently several bottles of wine!) – Set up at the fair starts 8am tomorrow so we call it a night.
10pm (that's 6am UK time- go us!).
Booth 301. Cabinets are in place, shipping trunks with our books in are here. I scarper, making circles of the fair as people are unpacking, eyes peeled ready to strike at the glimpse of an interesting book or object. Barely 15 minutes in and we've broken our duck: an attractively bound set of the Brock illustrated Jane Austen, complete in 6 volumes. Bumped into James A doing a victory dance having purchased for Lucius a photobook he'd been searching for for years and never seen before – something to do with naked men, in showers, accordian bound: nuff said. Purchases are piling up and with every circle of the fair I pop by our booth which in Georgina's hands is shaping up quite nicely.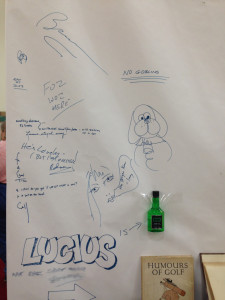 The Paul Foster Wall of Fame (and shame). Contributions from David Bauman, Pom Harrington, Adam Blakeney, Holly Segar, Peter Stern, Lorraine Stern, Georgina Hallgate and yours truly!Saturday: doors open and a good crowd, very pleased to see some of our local customers and always good to put faces to names of the people we have previously sold books to either online or by telephone but until now never met. There are rumours of a major Hollywood director walking around the fair, and we spot a few actors and musicians, many of whom are serious collectors and regulars at the major Californian book fairs. We make some good sales; popular, as ever are A. A. Milne and E. H. Shepard's Winnie The Pooh books, and one hardboiled fan walks away with a lovely first edition in dustwrapper of Dashiell Hammett's The Glass Key.
Superbowl Sunday: Apparently quite a big day over here, street closures, parties, barbeques, Katy Perry and the last day of the Pasadena Antiquarian Book Fair. To say it's a little quiet around the fair is somewhat of an understatement but we keep ourselves entertained (some more than others, the blurred bit was in the hand of Paul Foster and not fit for publication on a family blog.)
Pack up goes smoothly, space found for new purchases, trunks locked and off they go for the 48th California International Antiquarian Bookfair. Where the books go we follow so we are back on the road, this time to Oakland with a few stops in between.